Kurzes Guru Yoga auf Karmapa

Kurzes Guru Yoga auf Karmapa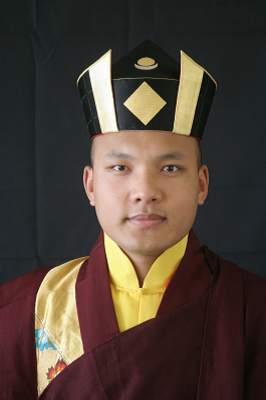 Short Guru-Yoga
DAG PA LHA YI LUNG TEN CHING
TSUR DU TEN PE NYIG MA DI
DRO WA DREN DZE KA DRIN CHEN
KAR MA PA LA SOL WAN DEB
One or three times
Prophesized by the pure Buddha
In this degenerate time of impure teachings
You guide beings with great kindness,
Karmapa, to You I pray.
KARMAPA CHENNO
Many times
KYE WA KÄN DU YANG DAG LAMA DANG
DRAL ME CHÄ– KYI PAL LA LONG CHÄ– CHING
SA DANG LAM DSCHI YÄ–N TEN RAB DZOG NE
DORDSCHE CHANG GI GO PANG NYUR TOB SCHOG
Throughout all my births
May I not be separated from the supreme Lama,
May the splendour of the Dharma be enjoyed,
May the best qualities of the stages and paths be gained.
May I quickly attain the level of Vajradhara.
Dieser kurze Karmapa- Guruyoga wurde vom 16. Gyalwa Karmapa Rigpe Dordsche verfasst.